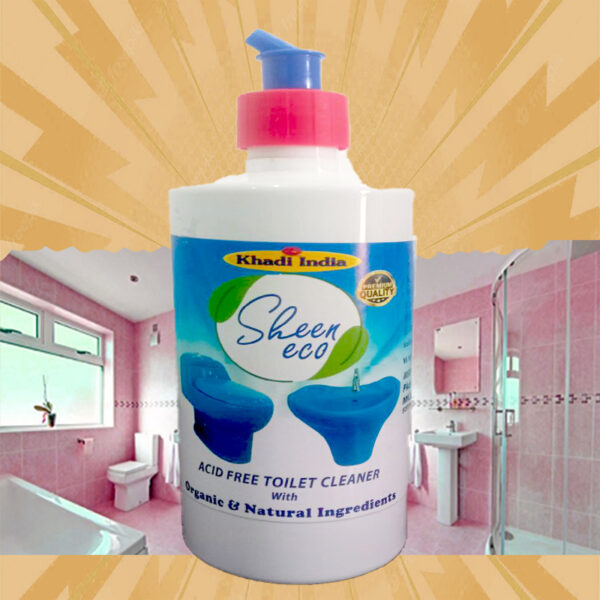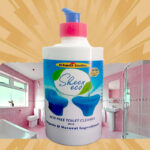 Sheen eco Toilet Cleaner – Acid Free
₹110.00
Sheen toilet cleaner is carefully formulated with naturally derived ingredients, free of Hydro chloric acid.
Compare
Description
Reviews (0)
Store Policies
Inquiries
Description
Ingredients:
Sheen eco Toilet Cleaner – Acid Free is made of Glaxicol Paste, Bees Wax, Citrus perfume, Colour, essential oil and aqua.
Advantages of using Sheen eco Toilet Cleaner – Acid Free :
It Fights 10 Toilet Stains To Give A Sparkling Clean Toilet. It ten times harder stain removal. It Kills 99.9% of germs and maximum Shelf Life 24 months. It helps fight odour and any unpleasant smell. It better than the ordinary bleach, acid, phenyl and existing acid based toilet cleaners. It Strategically bent bottleneck shape helps pour the liquid into deep corners under the toilet rim and thick liquid which clings and cleans from rim to U-bend.
Direction to use:
Sheen eco Toilet Cleaner – Acid Free is sprayed around the rim, seat cover and the bowl of the toilet prior to the use of the toilet brush. The toilet brush is used to scrub the toilet, removing stubborn stains and biological debris. In recent times, automatic toilet bowl cleaners that clip onto the rim of the toilet and clean with every flush have also become prevalent.
Unique Features:
Free from Hydro Chloric Acid
100% Vegan
Cruelty Free
Extra thick formulation
Citrus fragrance
Disclaimer:
There may be Natural blemishes/distinctions that are not product flaws. Such variations are inherent in the manufacturing of handmade products, so you might find slight changes in color of the products.
General Inquiries
There are no inquiries yet.